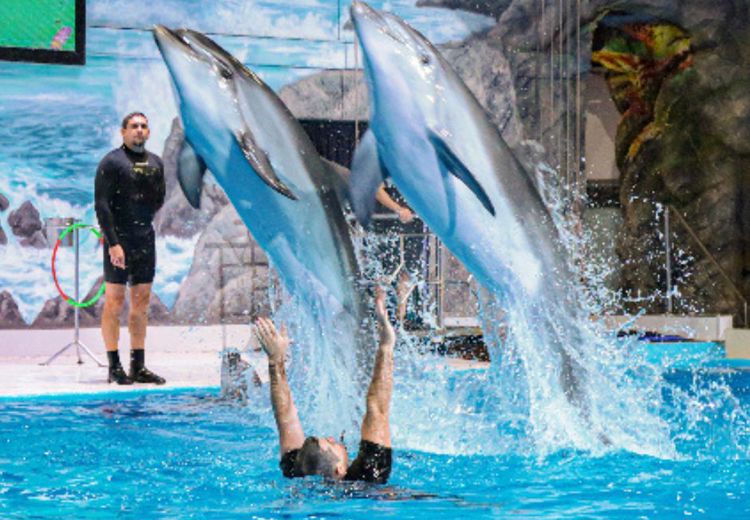 Dubai Dolphinarium as one of the most visited attractions in Middle East, has paved its way to bring lots of joy and happiness in the people's faces throughout the years. As a matter of fact, it is known to be one of the most fun family entertainment in Dubai.

Want to visit Dubai Dolphinarium? Here's some information below:
Attractions That We Offer
There are three main attractions to see in Dubai Dolphinarium available these are Dolphin & Seal Show (Timings: 11am, 2pm & 6pm), Creek Park Bird Show (Timings: 12:15pm, 3:15pm & 7:15pm) and Swim With Dolphins (Timings: 10am to 5pm). These are available from Monday to Saturday and can be booked online.

Other Attractions To Enjoy
Other attractions to enjoy are the following: Mirror Maze, 5D Cinema,Gift Shop and the Happy Valley Restaurant. These attractions are open every day from 10am-7pm, Monday to Saturday. Tickets are available direct at the ticket counters. You do not need to purchase a ticket to the Dolphin & Seal or Exotic Bird Show to visit these attractions, you can add them to your itinerary as part of sightseeing in Dubai!
Corporate & Events
We have facilities to cater small anad large functions such as Birthday Party, School Visit and other corporate events.
Plan Your Visit
Dubai Dolphinarium is located in the beautiful Creek Park in the heart of Dubai. We recommend that you keep at least a couple of hours free to spend here or make sure we are included in a Dubai city tour, you won't be disappointed! After your visit to Dubai Dolphinarium, you can enjoy other amenities of Creek Park.
How To Find Us
We are easy to find & are located inside Creek Park, Gate 1, behind Healthcare City and Wafi City - check out 'Contact Us' for more details & see the map at the bottom of this page.
Creek Park Gate Charge
All entrants need a NOL card to enter Creek Park. This charge is collected separately by Dubai Municipality and is non-negotiable. NOL card is available to purchase at the park entrance or any metro stations. It should have a credit of at least AED5 (for each guest) to enter Creek Park. Guests can use the NOL card for future visits to public parks or when taking public transportations.
Baby Changing
Baby changing units available in the washrooms.
People of Determination / Wheelchair Access
People of Determination with SANAD cards are exempted from regular entry fees only. 1 Companion will be entitled to 50% discount on regular seats only. Complimentary wheelchair service is offered at request.
FREE WIFI Access
We have Free WiFi access inside the Dubai Dolphinarium Building. Dubai Dolphinarium Guests are requested to check in using their Facebook Account & Like Dubai Dolphinarium Page to avail Free WiFi.
FREE Parking
Guests are advised to come early before the show to avail the free parking access provided by Creek Park. Parking spaces are on a first come, first served basis.
Prayer Room
There are prayer rooms located next to Dubai Dolphinarium building.
We want to give the best service not only in terms of giving the right information but also in providing the best entertainment. Visit us today.
Experience all the fun, all under one roof with our fully air-conditioned indoor facilities only at Dubai Dolphinarium!